Posts: 3722
Joined: Wed Jun 30, 2004 1:45 pm
Location: Blue Mountains, or on a rig somewhere in bumf*ck idaho
I built these for my brother in law. Thought i'd share the process with you all. I won't be able to describe all the steps so if you have any questions feel free to ask.
I designed them on CAD taking all the best design cues from commercial units. Yes i plagiarised the hell out of them, i freely admit it. If you download a program called Draftsight it's free and has all the functionality that autocad has. Save the file as a DXF as that's what your laser cutter needs. These aren't the cheapest way of DIY'ing drawers but they're solid, work well and still a fraction of the cost of buying them. We have about 850 in materials in these, mainly because they're over the magic 1200mm mark that a standard sheet is wide.
If you take anything away from this, it's that you MUST spend a bit of time in the design phase. Once the parts are cut and bent there's no going back if it's wrong, you're in the hole for cash. So with that in mind, pay attention to -
1. Parts interference and clearance. Make sure that ALL components will clear others through out the range of motion. That includes sheet metal, fasteners, carpeting, latch mechanisms.
2. take into account material thicknesses when bending. If a hole is 10mm from the edge of a 1.5mm sheet, and another 10mm from a fold line, then once folded the hole will be 11.5mm from the outside edge of the fold line.
Parts and materials ready for assembly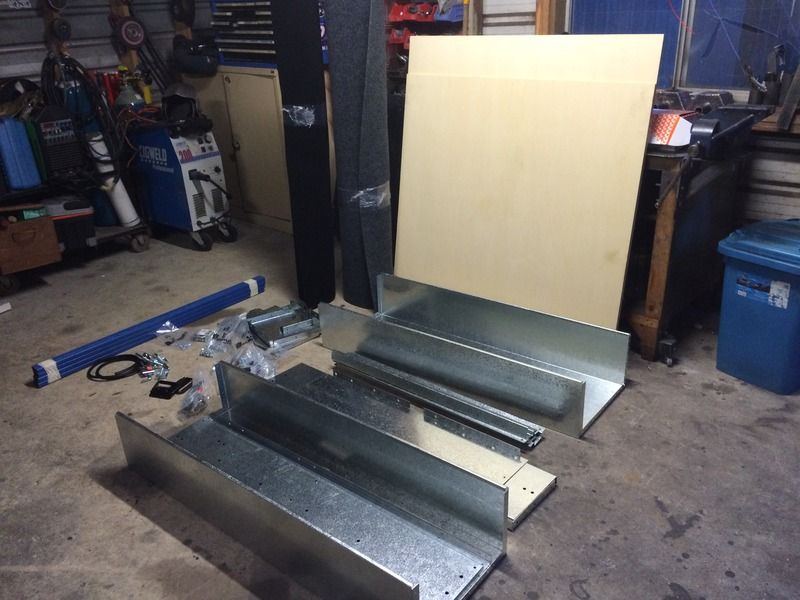 My end plates are rivetted to the body of the drawers. The top edge has a 180 degree fold called either a "fold and crush" or a "safety edge. The tops of the drawers have a double 10mm return to provide stiffness
http://www.populationparty.org.au/